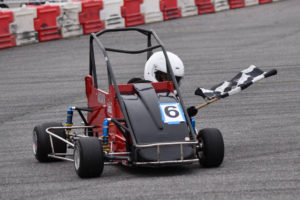 Welcome to Aidan Brooks Racing!
Aidan Brooks is an up-and-coming junior racer of quarter midgets, racing in three divisions: Junior Honda, Junior Animal and Junior Stock. Aidan had very impressive race results in his first full year as a racer, with first-place finishes in Novice RMQMA at IMI (Dacono, CO) and SCQMA (Pueblo, CO), as well as second place in the RMQMA Budweiser Piston Cup (Loveland, CO).
Aidan is a history buff and winning his final Novice race on September 11 at RMQMA (IMI~Dacono) was very meaningful for him. He has since moved up in to the Junior division and been competitive with nationally ranked drivers at several local races and, most recently, at a national level.
With an unconventional non-racing background and a quick, analytical mind, Aidan's thought process is very different than most racers— giving him quite a competitive edge. However, he still maintains humility and compassion towards other drivers, as well as his classmates, making him both a great competitor and sportsman. Aidan is a hard-worker, compassionate, and funny. He is often the student the teacher looks towards when trying to successfully incorporate new students into the class.
Highly-driven, Aidan and his team aim to contribute integrity, fair-racing and safe racing to the sport.